Amid pandemic, Columbia Health Achieves AAAHC Re-Accreditation for Another Three Years
Since 1993, Columbia Health has been accredited by a national organization as adhering to the highest standards of quality care.
January 27, 2022
This month, Columbia Health received a full three-year re-accreditation from the Accreditation Association for Ambulatory Health Care (AAAHC). This places the organization among the elite 10% of college health providers that voluntarily pursued accreditation and met the rigorous standards of quality health care set by AAAHC.  
Even with an intense two years managing a pandemic alongside ongoing and growing demand for services, the surveyors found that across the board, Columbia Health is meeting or exceeding AAAHC standards. In chapter after chapter, surveyors noted Columbia Health as "exceptional," "doing a great job," "outstanding,"  and "strong program."
Achieving re-accreditation right at the one-year anniversary of Columbia Health's independence validates that Columbia Health is equipped and positioned to advance the health and well-being of the entire Columbia community.
A rigorous accreditation process
Following a months long self-assessment and review, the on-site survey is the cornerstone of the accreditation process. AAAHC surveyors spend two days with the candidate organization, completing a comprehensive assessment of standards across the entire organization to arrive at a true measure of quality healthcare. It is also a consultative and educational process aimed at helping the organization improve its care and services.
Surveyors conducted their assessment of Columbia Health this past December, studying policies, speaking with staff, touring facilities, observing the programs and services, and analyzing the organization's approach to care. They measured Columbia Health against more than 800 standards across a wide range of health-related categories. These include patients' rights and responsibilities, governance, administration, quality of care, quality management and improvement, clinical records, infection prevention, control and safety, facilities, health education and promotion, behavioral health services, and teaching and publication activities among others.
Image Carousel with 2 slides
A carousel is a rotating set of images. Use the previous and next buttons to change the displayed slide
Slide 1: Dr. Melanie Berntiz (SVP, Columbia Health) welcomes AAAHC surveyors at the closing session

Slide 2: AAAHC surveyors present findings to Columbia Health staff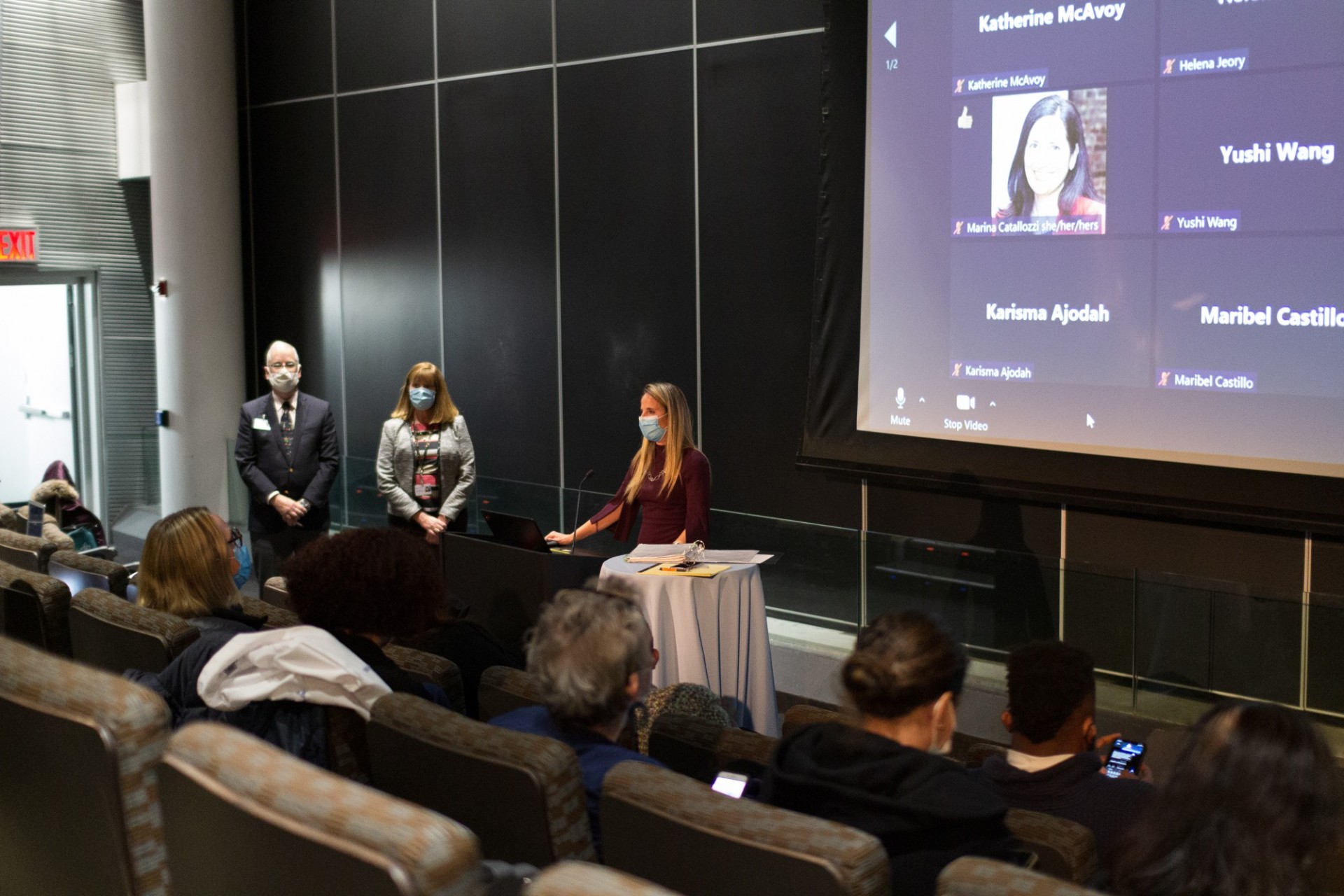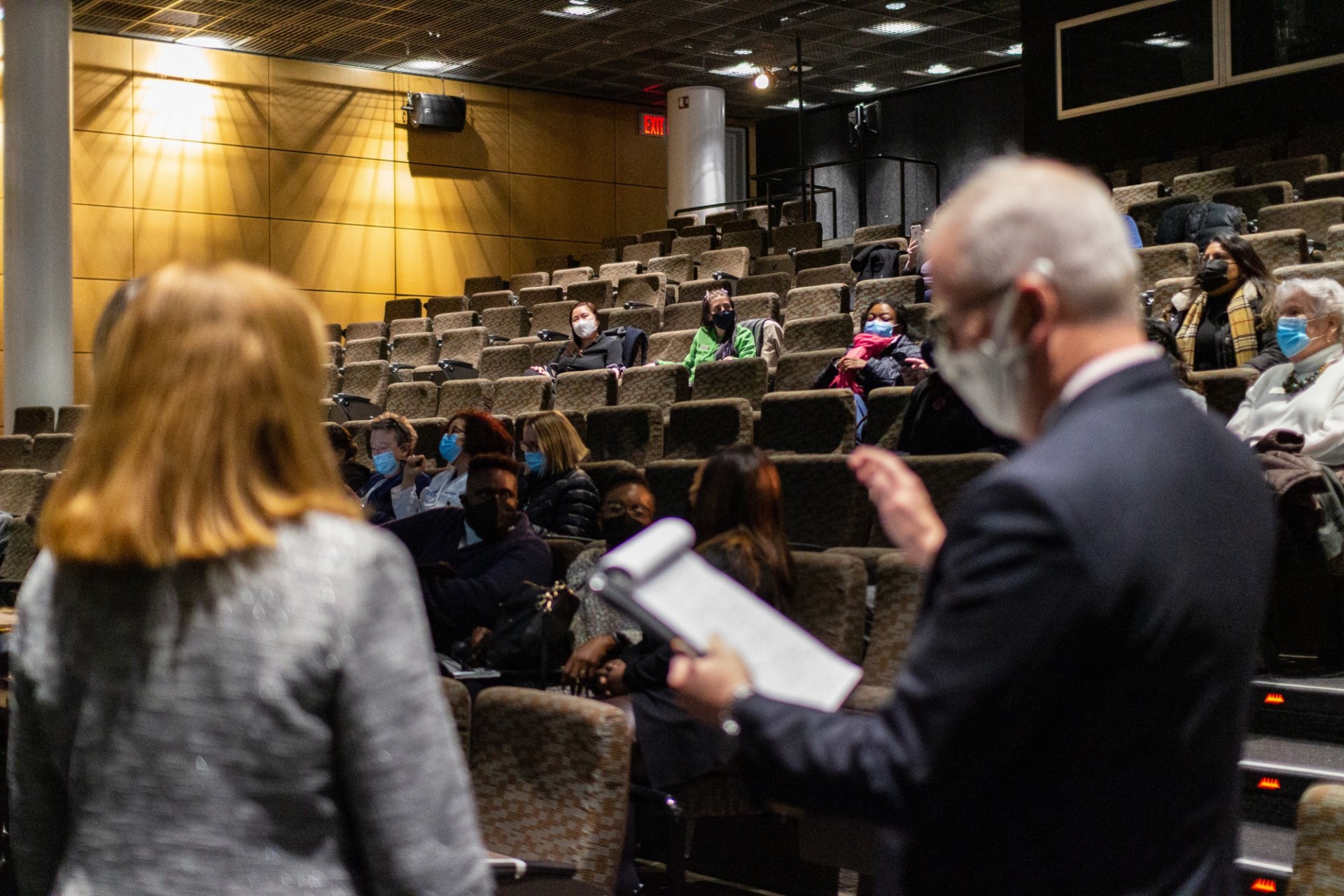 Previous
Next
Meeting and exceeding, the standards of quality care
At the onsite survey's closing session, AAAHC surveyors noted in chapter after chapter that Columbia Health is "exceptional," "doing a great job," "outstanding," or had a "strong program." They also highlighted many areas of work that not only meets their standards, but exceeds them:
Great strides in building a student-centered medical home 
The only college healthcare organization surveyors have seen doing research during the pandemic and recommended one of the studies for an award submission
Doing more with less space than any organization the surveyors have seen
Exceptional programs in health promotion and behavioral health
Pursuing accreditation in itself is a tremendous challenge, one made more so by the ongoing COVID-19 pandemic, combined with the ongoing and growing demand for services. Perhaps it is these circumstances that make this year's reaccreditation more significant than years past: it demonstrates the organization's commitment to providing the highest levels of care for all Columbia's Morningside and Manhattanville students and supporting the well-being of the entire Columbia community.
This achievement is an important milestone in the continuing growth and success of Columbia Health, who just one year ago, became a standalone department within the Columbia University system.
Columbia Health is proud to have met the challenge and intends to uphold the principles of quality improvement in patient care that this recognition signifies, now and in the future.
---
About AAAHC Accreditation
The AAAHC, founded in 1979, is the leader in ambulatory health care accreditation with more than 6,100 organizations accredited.
Through its reaccreditation survey and nationally-recognized standards, AAAHC serves as an advocate for the delivery of high-quality health care services.