Columbia Health Raises Awareness of Naloxone Training in Honor of International Opioid Overdose Awareness Day
August 31 is International Overdose Awareness Day.
August 31, 2021
August 31 is International Overdose Awareness Day to remember and honor those who have died due to overdose, raise awareness of the issue, reduce the stigma of drug-related death, and acknowledge the grief of family, friends, and community.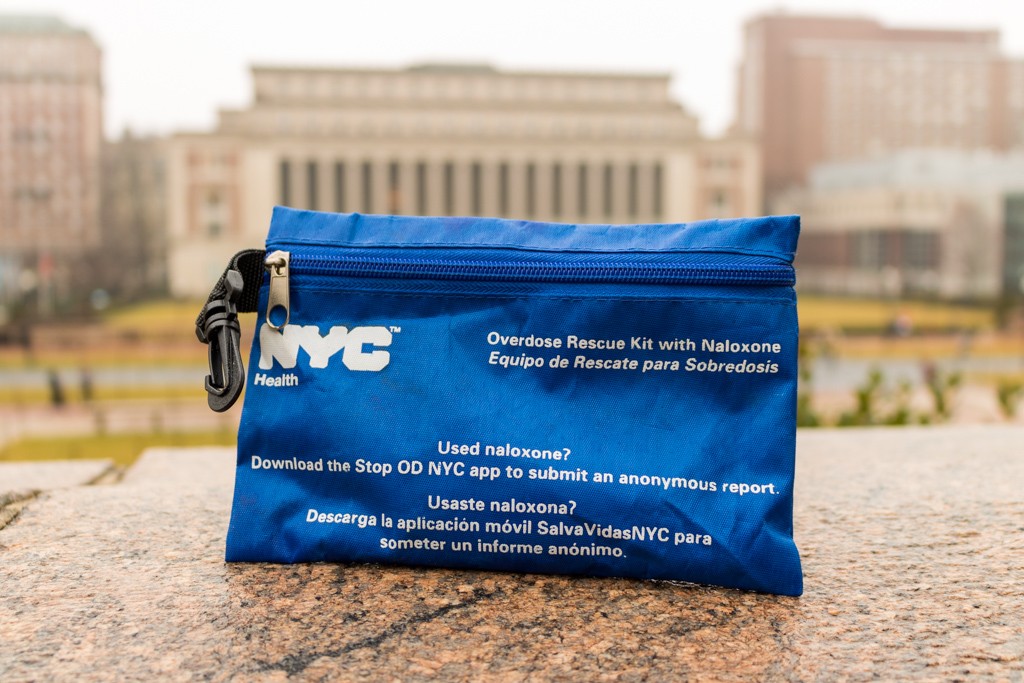 The other -demic: the opioid epidemic
The Centers for Disease Control (CDC) estimated that 90,237 people in the United States died from an opioid overdose between September 2020 and April 2021. New York City estimates that a fatal overdose occurs every 5 hours in New York City.
The physical and emotional toll of the COVID-19 pandemic has only worsened these numbers. A study by a team of CDC researchers found roughly 13% of people surveyed either began using drugs during the pandemic or increased their use of illicit substances to cope with the pressures of the pandemic.
Empowering community members to help end opioid overdoses
The Columbia community recognizes that opioid overdoses are preventable and that most drug overdoses are seen, meaning that someone else can call for or step in to help. Columbia Health* is helping our University and expanded community by hosting opioid education and naloxone trainings. Since its launch in 2019, the program has identified and trained members of the campus community to recognize signs of opioid overdose and administer lifesaving medication.
The training session covers:
Opioid overview
What an opioid overdose is
Signs and symptoms of an opioid overdose
What increases the risk of opioid overdose
Medication for opioid use disorders
What naloxone is and how it works
Naloxone kit components and use
Response steps for a suspected overdose
How to administer naloxone
Since August 2019, 2,108 members of the Columbia community have been trained in 123 sessions and now carry life-saving naloxone to be used in the case of an opioid overdose. In light of the COVID-19 pandemic, Columbia Health transitioned to offering virtual trainings on Zoom. Naloxone kits are mailed to participants or available for contactless pickup on Morningside campus upon completion of training.
In a recent survey, attendees shared their motivations to attend training. There was one common thread throughout all responses -- to learn how to help their immediate community. Many attendees reported experiencing or witnessing instances where loved ones or community members could have received help from this harm-reduction approach. It isn't uncommon for people to be met face-to-face with overdose events and this has driven attendees to put themselves in a position to help others and to change the trajectory of the overdose.
You can help save lives
This International Overdose Awareness Day, join Columbia Health to remember and honor those who have died due to drug overdose by taking a step to reverse overdoses in your community – sign up to attend a virtual naloxone training.
Please visit the Columbia Health events page to view and register for other upcoming naloxone training dates.
Students, faculty, staff, and alumni can request a naloxone training for their group by completing and submitting a Naloxone Training Request Form.
* Columbia Health is a Registered Opioid Overdose Prevention Program, recognized by New York City and State Departments of Health. This designation came as part of a multi-disciplinary initiative between researchers, practitioners, and students.