Transgender and Gender Expansive Health Care
Last reviewed: 10/27/2023
Columbia Health offers a number of services for transgender and gender expansive students. Explore the links below for more information, including how to access each service.
Manage your name in use on SSOL
Students can enter their name-in-use directly in SSOL. This information is fed directly to the Columbia Health Patient Portal. Please note that data is not synced automatically and may take a few days to render in our system.
You can find more information about Columbia's preferred name policy on the Registrar's website.
Manage your pronouns on the Patient Portal
Students can enter their pronouns directly in the Columbia Health Patient Portal.
There are fields in one's user profile where students can identify and edit their pronouns and gender identity. Learn more.
Tell your provider to use your legal name for prescriptions
Official documents such as prescriptions for medication require individuals to use their legal name in order to be processed. If you are receiving a prescription, please remind your provider to use the legal name listed on your student profile, if it is different from your chosen name.
Transgender and Gender Expansive Team
The Transgender and Gender Expansive Team (TGET) is a group of interested Columbia Health administrators and clinicians from a number of different departments that meets regularly to coordinate and improve services for transgender and non-binary students.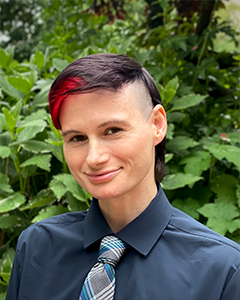 Pronouns: they/them/theirs
Role: Transgender and Gender Expansive Team Leader, Staff Psychologist (CPS)
About: Dr. Kori Bennett enjoys working in collaboration with their fellow TGET Team members/Columbia Health colleagues in supporting students who are exploring gender and/or considering options for affirming care. As a clinician, Kori works from an identities-affirming, trauma-informed framework that values each person's unique self-understanding and self-determination, creativity, resiliency, and definition of community.
Self-care: Kori enjoys hanging with friends/family (of choice & origin), reading/writing, creating, running outside, and indulging in extremely low budget movies from the 80s/90s.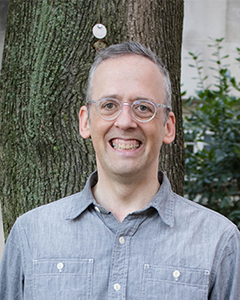 Pronouns: he/him/his
Role: Transgender and Gender Expansive Team Medical Coordinator, Associate Director, GHAP, Tobacco Cessation Counselor
About: Daniel Chiarilli meets with students interested in learning about or starting gender-affirming hormone therapy at Columbia Health. He has worked closely with students around sexual health and sexuality at GHAP and has appreciated the opportunities offered by the TGET to expand the scope of his work to include gender diversity. 
Self-care: Daniel likes to spend time with his boyfriend, read novels, watch movies and appointment tv, listen to and play music, and go running on weekends (although he hated gym class in high school and got a "D" the final quarter of his senior year).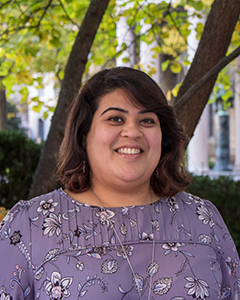 Pronouns:  she/her/hers
Role:  Clinical Case Manager-Social Worker
About:  Karisma works with students to connect them with resources both on and off campus as well as transition their medical care to community providers when they have graduated.  Karisma believes that access to healthcare is a human right and advocates for students to access the care they need.
Self-care:  Karisma enjoys spending time with friends and family and also meditates and studies Buddhism.  Karisma is also a self-proclaimed crazy cat person and the proud cat parent of Nermal and Arthur.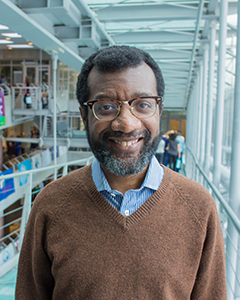 Pronouns: he/him/his
Role: Staff psychiatrist (CPS)
About: Dr. Kwame Akowuah is pleased to be a member of the Transgender and Gender Expansive Team. He believes that mental health treatment works best when the approach is one of collaboration built on trust and understanding. His approach is not to focus solely on the concerns that led the other person to come and see him, but instead to try understand their lives, community, concerns, and strengths in a whole and nuanced way. This makes it more likely that he will be able to provide advice and recommendations that can be of the most help to the other person, while also aligning with their values and priorities. However, since it is also true that it can be very hard or even scary to open up to someone you have just met, he believes in moving at whatever pace makes the other person most comfortable.
As part of his medical training, Kwame pursued a fellowship in Psychiatry and the Law. One of the many things that he carried away from that experience was a deeper historical understanding of how the right to self-determination regarding one's physical and mental health care was something that was hard won over many years of struggle, and must be treated with respect at all times.
Self-care: Kwame is an avid soccer fan and enjoys watching it immensely, especially Liverpool FC and the US Women's National Team. He also enjoys science fiction, listening to and playing music. He listens to a lot of podcasts and audiobooks.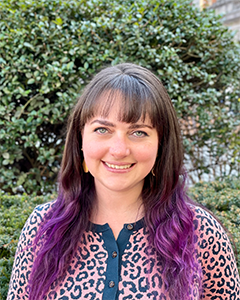 Pronouns: she/her/hers 
Role: Staff Psychologist (CPS) 
Dr. Kasia Garland practices from a trauma-informed, culturally responsive, and social justice-oriented lens. She believes that her patients are the experts on their own experience and aims to work collaboratively to best support each individual in achieving their goals. 
Self-care: Having moved to NYC from Scotland as a child, Kasia loves taking advantage of the city's offerings, from the numerous museums, concert venues, and summer outdoor movie screenings. It would be shocking if she ever turned down sushi. A bit of an adrenaline junkie, Kasia was once a ski instructor and thinks sky diving was the most mindful thing she has experienced. However, she also is happy at home reading while curled up with her calico cat, Rorschach.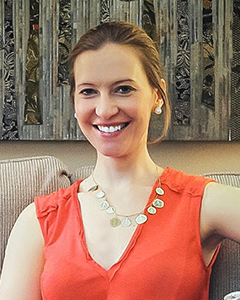 Pronouns: she/her/hers 
Role: Staff Psychologist (CPS)/Eating Disorders Team Member 
About: Dr. Renee Gibbs joined the TGET team in 2020 after nine years of transgender advocacy and transgender care development in the Dept. of Veterans Affairs. She enjoys working with multi-disciplinary teams to provide wrap-around care for individuals in any stage of gender identity development and gender affirmation. Her goal in working with clients has been as an advocate to reduce barriers in healthcare disparities for obtaining high quality care. Dr. Gibbs additionally specializes in the treatment of eating disorders and body image concerns and has experience in addressing these concerns in trans and LGBQ clients. 
Self-care: Dr. Gibbs devotes her time outside of work to her toddler and partner and enjoys physically active hobbies such as running, argentine tango, and globetrotting as much as possible.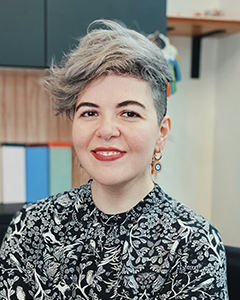 Pronouns: she/her/hers, they/them/theirs 
Role: Clinical Social Worker (CPS) 
About: Wardeh is a clinical social worker at CPS who works from a trauma-informed approach. Wardeh is dedicated to providing affirmative care from a cross-cultural perspective for gender expansive folks. Wardeh combines spirituality, existentialism, and attachment-based theories in working with students struggling to integrate their different identities. 
Self-care: Wardeh enjoys solving jigsaw puzzles (500 pieces or less) before two beloved house cats knock them off the table. When it is not too hot out, Wardeh prefers running half-marathon races in major cities (followed by enjoying the best knafeh in those destinations). Wardeh also likes to watch movies in theaters (especially horror films). 
Pronouns: she/her/hers
Role: Staff Psychologist (CPS)
About: Dr. Motoni Fong Hodgers is a staff psychologist dedicated to providing clinical care and support that is affirmative and culturally sensitive. She is also a member on the Trauma Team at CPS and is committed to ensuring that individuals receive care in a safe, non-judgmental, and empowering setting. Trained as a psychoanalyst, Motoni is comfortable providing both short- and longer-term psychotherapy, as well as serving as an advocate on behalf of students. Students have often described Motoni's style as "calming, warm, and sensitive."
Self-care: Camping, exploring new beaches, enjoying a good cup of coffee, dog sitting (and spoiling them) for friends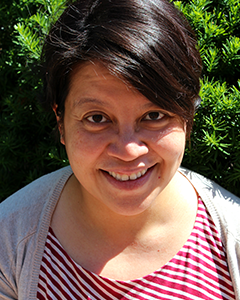 Pronouns: she/her/hers
Role: Staff Psychiatrist (CPS)
Dr. Regina Lara believes in collaborative care, and expects you to be an active member of your treatment team.  While she believes medications can be helpful and sometimes necessary, she also emphasizes the importance of lifestyle practices in promoting well-being. Trained as a child and adolescent psychiatrist, Regina draws frequently on attachment theory and the need for good-enough relationships. She proudly identifies as a Filipina-New Yorker and after 25 years in this city cannot conceive of a better place to call home.
Self-care: Regina actively denies the existence of horror movies and avoids them at all costs. She is an indulgent and permissive dog owner, whose favorite self-care routine is daily morning meditation with her French Bulldog, Ludwig, snoring and drooling on her lap.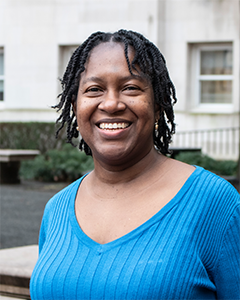 Pronouns: She/Her/Hers/Tee-Rocka
Role: Health Services Coordinator (Medical Services)
About: Tonia Lesesne has been committed to everything Columbia Health since 1991.
Self-care: Napping. Tonia's happy place is listening to rap music. Believe it or not it keeps her centered and soothes her soul.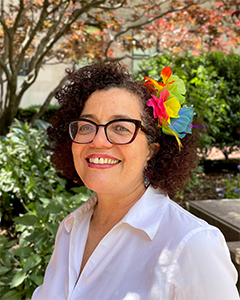 Pronouns: she/her/hers 
Role: Assistant Nurse Manager 
About: Myriam Marques is a primary care nurse with a strong background in community health care and Public Health. She has enjoyed a decades-long passion for working with LGBTQ+ health as a nurse and educator. Myriam started working with the queer community in the 90's in her native Brazil. After moving to New York City, she was part of the team that started the first Transgender Care program in town. As she likes to point out, providing care for transgender patients has been a beautiful, soul-enriching journey, the best part of which is learning from her patients on their experiences and culture. In her past experiences, she had created many classes and works shops on TG general care including on self-care, medications, surgeries. As a nurse, her focus is to ensure that each patient is heard, respected and well-informed in every decision about their healthcare.  
In her work as a human rights activist with a special interest in sexual and reproductive rights, Myriam participates in several media and educational projects. She is a proud member of the Reclaim Pride Coalition in New York and is very happy to work for Columbia students as a member of TGET.    
Self-care: Myriam loves walking, biking, hiking, gardening, dancing, playing capoeira, hanging out with friends and also quiet activities, such as meditation and praying.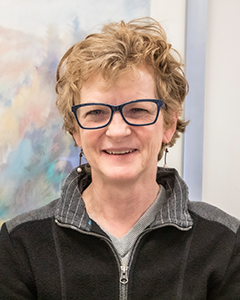 Pronouns: she/her/hers
Role: Family Physician (Medical Services)
About: Dr. Dawn McAllister is a dedicated family physician who strives to attend to the wholeness of each of the students she sees. In particular, she provides hormone therapy for gender expansive patients. She worked as an Assistant Professor for years at the Columbia University Irving Medical Center, caring for patients and teaching medical students and residents. As someone who has identified as androgynous since her early teens, she feels that transgender and gender expansive ways of understanding all people are liberating for all of us.  She is happy to have the honor of participating in the medical care of people who choose this gender-expansive path. She is a cis-woman who is a lesbian and was married for 24 years. She has three sons who are now 19, 17 and 13 years old. She had her oldest son by birth and her younger two sons by adoption from Ethiopia. Dr. McAllister comes from a working class family in Ohio and hopes that her background and compassion help to make her a medical provider who is accessible, competent and kind.
Self-care: Dr. McAllister often goes trail running with her dog, a Labradoodle named Rosie, off-leash in the woods near her home in Hastings-on-Hudson. She loves the city and also, the peace of outdoors. She enjoys fixing things, cooking, hiking and her three sons. She typically meditates sporadically but has been doing it nearly every day for two weeks now. Let's see if that continues. Taking care of yourself if not always easy.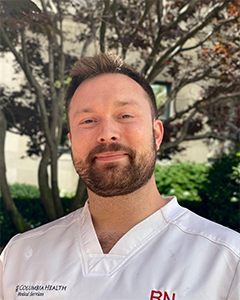 Pronouns: He/Him/His
Role: Registered Nurse 
About: Jon is a Registered Nurse at Medical Services who is passionate about delivering care that is patient-centered, holistic, affirmative, and collaborative. Jon strives to create open, comforting, and goal-oriented learning environments for patients as they learn how to navigate through their gender affirming journey. As a nurse, Jon will be assisting patients with hands-on actions such as self-administering hormone therapy. Prior to starting at Columbia Health, Jon worked on a surgical and trauma floor at Boston Children's Hospital where he cared for several patients after their gender-affirming procedures. Jon hopes to utilize this experience by educating patients who wish to pursue gender-affirming surgeries, on helpful tips and what they can expect after these procedures. He understands that navigating healthcare systems can be overwhelming, so he strongly encourages anyone to reach out to him by secure messaging through the patient portal with any and all questions! 
Self-care:  Jon enjoys spending time with his partner, cuddling with their cat, playing volleyball & softball, dancing to Charli XCX and Rihanna, eating pie, and reading comic books.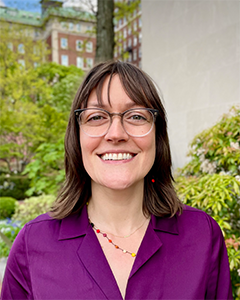 Role: Clinical Psychologist (CPS)
Pronouns: she/her/hers
About: Maria joined Columbia Health in Spring 2023 and is looking forward to working collaboratively with other TGET members to provide students with affirming and well-rounded clinical care. She is invested in helping students explore and understand various parts of their gender identities and expression in a safe and mindful space.  Maria encourages attending to how history and relational patterns shape current experience.  She also provides psychoeducation and skills training as needed to assist people in understanding themselves and using their voices effectively.
Self-care: Maria enjoys gardening, doing yoga, dancing, seeing live music, crosswords, running outside, and spending time with loved ones and her sweet pittie-boxer, Bella.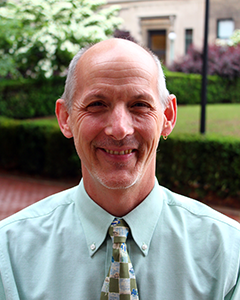 Pronouns: he/him/his
Role: Physician (Medical Services)
About: Dr. Rick O'Keefe is a family physician who has been working with the queer and gender expansive community in NYC since 1987. Rick works with students interested in hormone replacement therapy and gender-affirming surgeries. He brings a patient-centered and holistic approach to his work with students, proposing that wellness is the integration of mind, body, spirit, community, and emotion. Rick believes in partnering and learning with patients to provide resources and care that best suit their needs.
Along with his TGET role, Rick is Medical Advisor for the Gay Health Advocacy Project (GHAP). He also co-founded the Health Outreach To Teens (HOTT) program with the Callen-Lourde Community Health Center, providing mobile medical services to youth in street settings.
Self-care: Rick enjoys journaling, long walks, meditation, and spending time at his farm with his husband.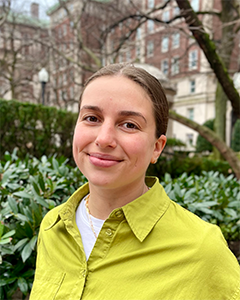 Pronouns:  she/her/hers, they/them/theirs
Role:  Clinical Social Worker (CPS)
About:  Brittany is a licensed clinical social worker who joined CPS in early 2023 and is passionate about providing affirming care for the students they work with.  Brittany has a particular interest in helping those navigating sexual and gender identity, non-traditional relationships, and body image and eating concerns.  Brittany uses a humanistic and client-centered approach to help their clients create change in their own lives.
Self-care:  Brittany spends their free time walking and training their rescue boxer-mix.  Brittany enjoys reading, going to workout classes, spending time with friends, and watching too much reality television.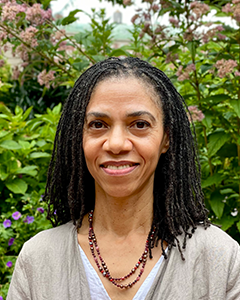 Pronouns: she/her/her
Role: Senior Staff Psychologist (CPS)
About: Dr. Addette Williams works with the Transgender and Gender Expansive Team to support students in exploring options and accessing gender-affirming care.  As she is also a member of the Trauma Team, Dr. Williams is attuned to the myriad ways that folks with marginalized identities may experience trauma, and she has a particular interest in the mental health of people of color.
Self-care: Addette enjoys sweating in hot yoga or a sauna, meditation, searching for colorful vegetables at farmers' markets, reading, and knitting socks.