Meet some of the providers behind gender-affirmative care at Columbia Health
Providers share why providing gender-affirmative care matters to them
June 24, 2022
The Transgender and Gender Expansive Care Team (TGET) at Columbia Health was formally launched in 2019 bringing together providers from across the organization to coordinate care and services on behalf of transgender, nonbinary, and other gender expansive students.  
TGET members have worked on and continue to develop various initiatives to enhance students' access to gender-affirming services and address barriers to care. This has included creating policies and protocols that enable providers to offer hormone replacement therapy and letters of support for gender-affirming surgeries, advocating for the expansion of coverage of gender-affirmative care in the student insurance plan, consulting and collaborating with students and other offices including OMA/LGBTQ @ Columbia, and piloting a gender-affirmative care training program for staff. The conference poster of this training program won the "Advancing Health Equity" award at the 2022 American College Health Association Annual Meeting.
As Pride month comes to a close, a few of the TGET team members share thoughts on why being part of this work matters, especially in light of the anti-trans movement and legislation happening in parts of the United States and the world.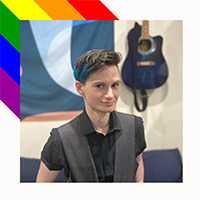 Kori Bennett, Psy.D., Clinical Psychologist, TGET Leader
Pronouns: they/them/theirs
It's an honor and a wonderfully complex experience to partner with trans and gender expansive students in the service of their care and to collaborate with colleagues and students to create and strengthen avenues of support and resources: possibilities that I couldn't have imagined as a trans student. These connections and the legacies, artistry, and stories of trans folks and communities both past and present push me forward in this work and fuel collective efforts to combat health-impacting inequities grounded in historical and ongoing colonization, racism, ableism, misogyny, homophobia, and transphobia.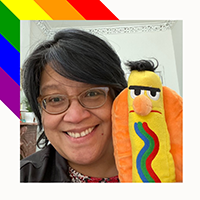 Pronouns: she/her/hers 
I find working in TGET especially meaningful since it is crucial for young people to feel like they are being seen and understood. it is so important to continue establishing spaces and relationships that both affirm and nurture our uniqueness.  I can identify with the experience of being different and not fitting in, and the sheer relief of finding "my people", even if that group includes many dogs and multiple muppets.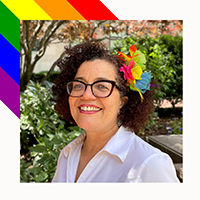 Pronouns: she/her/hers 
Providing care for transgender patients has been a beautiful, soul-enriching journey, the best part of which is learning from my patients on their experiences and culture. Another amazing fact is that by working to improve transgender care in colleges and universities, we are making history by joining one of the most important innovations in community health care of the 21th century: the inclusion of transgender clients as integral part of services that we provide.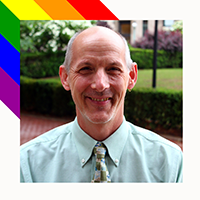 Pronouns: he/him/his
Working with the Transgender and Gender Expansive community is simultaneously humbling and inspiring. Humbling because I sometimes don't know the answers to questions and there is so much discovery of new options in this field. Inspiring because I am afforded the gift to partner with patients and walk with them on their path toward wholeness.