Virtual Health Visits at Medical Services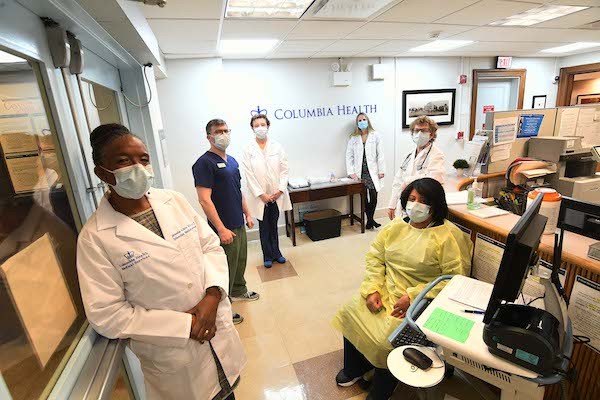 On March 15, 2020, Columbia Health rapidly moved to a virtual service delivery model in light of public health measures to minimize the spread of the coronavirus and to protect providers and students.
Medical Services, Columbia students' first stop for care on campus also moved its services to a "telehealth" or "telemedicine" model, even as the team maintains a limited onsite presence to serve students who remain near campus and need to see a provider. Students* can avail themselves of primary care visits at no cost, wherever they are, using phone or the HIPAA-compliant video conferencing platform Zoom Health.
What kind of conditions can I see Medical Services for?
You can use a telehealth visit for routine and urgent medical care, immunizations, as well as general nutrition and eating disorders, sexual health services, reproductive and gynecological services, LGBTQ health care, and guidance on confidential HIV testing.
In response to the unprecedented nature of this pandemic, the US government is allowing out-of-state providers to write referrals and prescribe medication. We can send your prescription to any local pharmacy in your area for easy pick-up or you can consider getting it delivered, if your pharmacy offers that service.
If you are spending the shelter-in-place order somewhere with limited or no telemedicine services, or if your local healthcare system is overwhelmed with COVID-19 cases, we urge you to contact Medical Services to ensure you are receiving medical care quickly, easily, and with little risk to your well-being. Please remember that all visits to Medical Services, whether in person or online, do not come with a co-pay.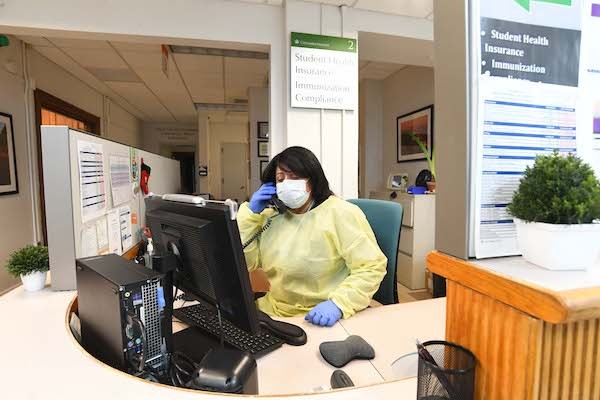 How do I make an appointment?
Whether you are in New York or in a different state or country altogether, the process for making an appointment remains the same. You can call 212-854-7426 to speak with front desk personnel, or you can log on to the Patient Portal and schedule an appointment. You can view available same day virtual appointments up to 24 hours from the time you check the appointment schedule, e.g. if you check at 8AM on Monday, you can see available appointments up to 8AM the next day, Tuesday.
In addition, if you have an existing relationship with a provider, you can send them a quick question using the secure messaging system and they will have an answer for you (or propose an appointment if deemed necessary) within 1 business day.
How does a virtual appointment start?
After you schedule your appointment via phone or the Patient Portal, you will receive a confirmation in the secure messaging system. A few minutes before the scheduled time, you will receive an email asking you to log on to the Patient Portal to start the virtual visit.
On your appointments page, you'll see a button that says "Check-in to Online Appointment" to let your provider know you are online.
After you have checked in, you will see another screen with the link "Click here to join the meeting." This will initiate the secure Zoom appointment between you and your provider, prompting the app that is downloaded on your phone or computer.
If you are having technical difficulties or an unstable internet connection, your provider can send you the Zoom link directly or call you on the telephone number on file.
What happens during the appointment?
Your Medical Services provider will start as they often do, by going through a series of questions to check up on your overall health, with specific emphasis on travel history and any COVID-19 symptoms.
You can then talk about your symptoms in greater detail and describe or show as best as possible what you are feeling. Your provider can then provide a diagnosis and plan for treatment.
At the end of the visit, your provider may schedule a virtual follow-up appointment, prescribe medication, or refer you to a local specialist. If they deem it necessary and you are near campus, your provider may ask you to come in to the Medical Services offices at John Jay Hall for an in-person visit.
The clinical case managers at Columbia Health will make sure you don't miss a step in your treatment plan so expect to hear from them, especially if you need help finding a local specialist.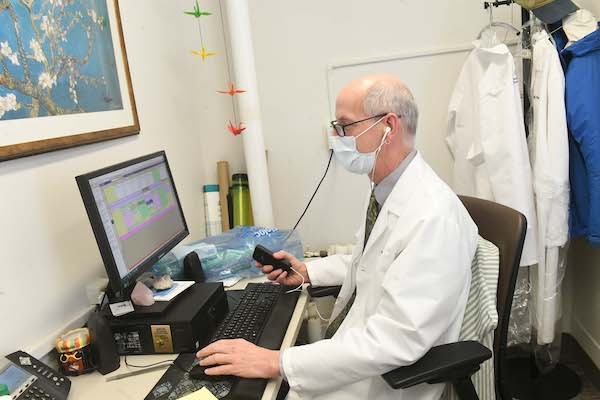 What kind of services are still available at John Jay Hall?
John Jay is open for students who have a scheduled in-person appointment (urgent issue, follow-up needed physical check-up, allergy shot, etc.). Please call 212-854-7426 in advance before visiting so you are screened for COVID-19. Walk-ins are not accepted.
If you are due for an immunization, please call 212-854-7426 to speak with a nurse.
Offering telemedicine visits to Columbia students across the world has mitigated hundreds of students from going to the emergency room or urgent care centers, at a time when it is crucial to maintain physical distancing and avoid non-essential travel and exposure to others.
Columbia Health remains committed to caring for students personal and academic success, and we continuing to adapt our services to meet your health needs amid our changing circumstances.
---
Students on the Columbia Student Health Insurance Plan: If you are more than 50 miles away from campus, you do not need a referral to see a local primary care physician or specialist. However, we urge you to make Medical Services your first stop for care even when you are away to ensure continuity of care and to reduce the financial burden of seeking care. Virtual/telemedicine visits with Columbia Health Medical Services have NO co-pay.
*Full-time students and students who have paid the Columbia Health and Related Services Fee.